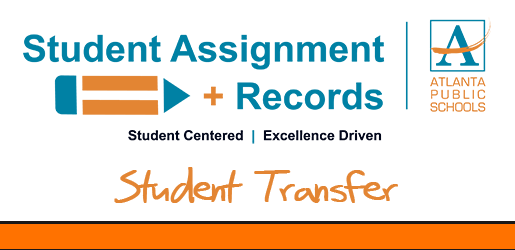 We are updating the Student Transfer Family Dashboard to reflect the 2018-2019 transfer options. The system should be avaible by 8:00 AM on September 1, 2017. You may email help@scribsoft.com during this time for technical assistance.
The Student Trasfer Team
Atlanta Public Schools

Select To Get Started:
---
General Information
Welcome to the Online Application system for Student Transfer at Atlanta Public Schools. Student Transfer is more than a philosophy — it's the programs and tools of a 21st century education that prepares students for success in a rapidly-changing and complex world.
All requests will be checked for accuracy. Any falsification of information may result in your request not being processed.
*Please also note that this website is optimized for IE 10.0 and higher, Safari, Chrome and Firefox.
Available for 2023-2024 School Year
Atlanta College and Career Academy 2023-2024 School Year (October 10, 2022 - March 3, 2023)
Important! Students must meet the eligibility requirements outlined on this page entered into the ACCA.
* Students with Disabilities are encouraged to apply. If the student is served under IDEA (has an Individualized Education Program), the IEP team must convene to review and discuss the student's IEP, transcript, and specific needs to determine if ACCA is appropriate. If the student is protected under 504 or has an accommodation plan, the 504 team should convene to determine if ACCA is appropriate.
Available for 2022-2023 School Year
ACCA Eligibility for FY23 Programs
Admission Requirements for all programs except Early College Essentials:
Students must be in the 10th, 11th or 12th grade during the 2023-2024 school year and on track to graduate
Grade 10 (Cohort 2025) 6+ credits
Grade 11 (Cohort 2024) 12+ credit
Grade 12 (Cohort 2023) 18+ credits
**Preference is given to graduating seniors**
GPA of 2.0 or higher
SST/504/Special Education – If yes, the team must meet to confirm eligibility to participate
Home school does not offer pathway requested
Admission to Early College Essentials TCC Program:
Students must be in the 11th or 12th grade during the 2023-2024 school year and on track to graduate
Grade 11 (Cohort 2024) 12+ credit
Grade 12 (Cohort 2023) 18+ credits
**Preference is given to juniors**
Hope GPA of 2.6 or higher, OR;
Meet the SAT/ACT/PSAT/ACCUPLACER entrance requirement of Atlanta Technical College
This program is a two-year commitment for completion
The Early College Essentials TCC courses will be offered on the ACCA campus (with ATC instructors)
---
For More Information, Contact:
Atlanta Public Schools
Student Assignment & Records Department
130 Trinity Ave SW
Atlanta, GA 30303

Phone: 404-802-2233
For Technical Support or Payment Issues, Contact:
Scribbles Software
Email: help@scribsoft.com
Phone: 855-465-1458
---
Business Hours
Monday - Friday
8:00 AM - 4:00 PM