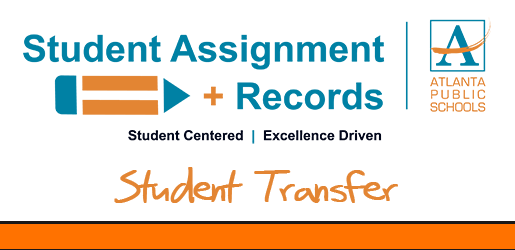 We are updating the Student Transfer Family Dashboard to reflect the 2018-2019 transfer options. The system should be avaible by 8:00 AM on September 1, 2017. You may email help@scribsoft.com during this time for technical assistance.
The Student Trasfer Team
Atlanta Public Schools

Select To Get Started:
---
General Information
Welcome to the Online Application system for Student Transfer at Atlanta Public Schools. Student Transfer is more than a philosophy — it's the programs and tools of a 21st century education that prepares students for success in a rapidly-changing and complex world.
All requests will be checked for accuracy. Any falsification of information may result in your request not being processed.
*Please also note that this website is optimized for IE 10.0 and higher, Safari, Chrome and Firefox.
Available for 2023-2024 School Year
Available for 2022-2023 School Year
ACCA Eligibility for FY23 Programs
Admission Requirements for all programs except Early College Essentials:
Students must be in the 10th, 11th or 12th grade during the 2023-2024 school year and on track to graduate
Grade 10 (Cohort 2025) 6+ credits
Grade 11 (Cohort 2024) 12+ credit
Grade 12 (Cohort 2023) 18+ credits
**Preference is given to graduating seniors**
GPA of 2.0 or higher
SST/504/Special Education – If yes, the team must meet to confirm eligibility to participate
Home school does not offer pathway requested
Admission to Early College Essentials TCC Program:
Students must be in the 11th or 12th grade during the 2023-2024 school year and on track to graduate
Grade 11 (Cohort 2024) 12+ credit
Grade 12 (Cohort 2023) 18+ credits
**Preference is given to juniors**
Hope GPA of 2.6 or higher, OR;
Meet the SAT/ACT/PSAT/ACCUPLACER entrance requirement of Atlanta Technical College
This program is a two-year commitment for completion
The Early College Essentials TCC courses will be offered on the ACCA campus (with ATC instructors)
---
For More Information, Contact:
Atlanta Public Schools
Student Assignment & Records Department
130 Trinity Ave SW
Atlanta, GA 30303

Phone: 404-802-2233
For Technical Support or Payment Issues, Contact:
Scribbles Software
Email: help@scribsoft.com
Phone: 855-465-1458
---
Business Hours
Monday - Friday
8:00 AM - 4:00 PM