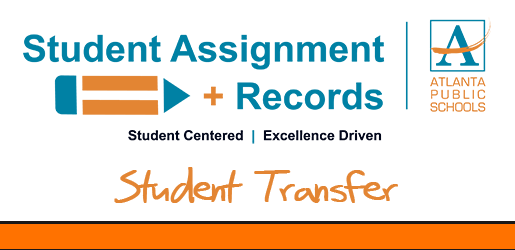 We are updating the Student Transfer Family Dashboard to reflect the 2018-2019 transfer options. The system should be avaible by 8:00 AM on September 1, 2017. You may email help@scribsoft.com during this time for technical assistance.
The Student Trasfer Team
Atlanta Public Schools

General Information
Welcome to the Online Application system for Student Transfer at Atlanta Public Schools. Student Transfer is more than a philosophy — it's the programs and tools of a 21st century education that prepares students for success in a rapidly-changing and complex world.
All requests will be checked for accuracy. Any falsification of information may result in your request not being processed.
*Please also note that this website is optimized for IE 10.0 and higher, Safari, Chrome and Firefox.
Available for 2020-2021 School Year
Atlanta College and Career Academy (December 9, 2019 - January 28, 2020)
Important!
Students must meet the following eligibility requirements to be entered into the ACCA:


Students must be in the 11th or 12th grade during the 2020-2021 school year and on track to graduate
Grade 11 (Cohort 2022) 12+ Credits
Grade 12 (Cohort 2021) 18+ Credits
**Preference given to graduating seniors**
GPA of 2.0 or higher
Home school does not offer pathway requested
Student has completed primary pathway at home school
SST/504/Special Education Services*
* Students with Disabilities are encouraged to apply. If the student is served under IDEA (has an Individualized Education Program), the IEP team must convene to review and discuss the student's IEP, transcript, and specific needs to determine if ACCA is appropriate. If the student is protected under 504 or has an accommodation plan, the 504 team should convene to determine if ACCA is appropriate.
Information for Open Enrollment Applications:
This is an official application. The information contained on this online application should be considered private.
NOTES:
Students who wish to attend a school other than their zoned school of attendance must submit and online application.

Transportation IS NOT PROVIDED for General Administrative Transfers.

Transportation IS PROVIDED for ACCA programs.

The student must abide by the attendance/behavior contract.

There is NO guarantee of approval. Some schools are frozen to outgoing/incoming students.

You will receive emails from scribonline@scribsoft.com to notify you of the status of your order. It is important you read those emails carefully as additional information may be required to process your request.

If you do not know your Zoned School of Attendance, please click HERE.
---
For More Information, Contact:
Atlanta Public Schools
Student Assignment & Records Department
130 Trinity Ave SW
Atlanta, GA 30303

Phone: 404-802-2233
For Technical Support or Payment Issues, Contact:
Scribbles Software
Email: help@scribsoft.com
Phone: 855-465-1458
---
Business Hours
Monday - Friday
8:00 AM - 4:00 PM